In today's society, when it comes to characterizing the goaltender's lifestyle, one phrase stands well above the rest.
"Look good, feel good, play good."
And when it comes to personifying that lifestyle, no former NHL goaltender does it better than Kevin Weekes.
Even as a tiny tot, Weekes dressed the part of a professional athlete
Known as one of the most well-dressed and well-spoken broadcasting personalities in the game, Weekes brings an unyielding passion for style and substance to studios and rinks on a daily basis. His background is as unique as the pads he wore throughout his career; a rich Barbadian heritage and an extremely hard-working family that helped him pursue lofty dreams.
As a minority, Weekes faced his fair share of adversity throughout his youth, junior, and pro playing days. But whether he was in the crease or on the playground, he was comfortable being uncomfortable, and he stopped at nothing to become a better goalie, student, and person.
This visible lust for the pro athlete's lifestyle developed a strong penchant for promoting the game at the grassroots levels, and when he finally retired in September of 2009, he quickly developed the reputation for being a "builder" in the game of hockey. His ability to interact with fans on a daily basis through Twitter, and combined with his numerous charitable community service projects, he has truly become a man for others.
Over the summer, Weekes introduced his newest project to the hockey community; I Have No 5-Hole.
If you're one of his more than 64,000 followers on Twitter, you know this project is all about apparel. But for those that want to know how it all came to be, I asked Kevin for the story behind the style.
The genesis of his new apparel line actually stemmed from his self-proclaimed "rink rat days" in Toronto.
"Ever since I was a young guy, I was always into fashion, but I was also clearly into goalies," Weekes explained. "I've been a rink rat since I was six years old in Toronto, so I was the kid that was always at the rink with my dad, always wanting to stay and watch the older guys. So the likes of Mike Torchia, Sean Burke, Ron Tugnutt, Glenn Healy — I always knew what kind of pads they were wearing. So I was naturally into goalies and their style, but I was really into fashion, too. Wherever I went, my parents always made sure I looked well put-together and respectable."
As Weekes started down the path of his junior career with the Owen Sound Platers and Ottawa 67's in the Ontario Hockey League, when some guys didn't even have a suit to wear the rink, his biggest pre-game problem was choosing one. Between goalie pads and good-looking suits, Weekes always took "looking sharp" very seriously. It was a key component to his classy identity, and it helped him establish a presence in front of coaches, scouts, and players.
"My teammates always kind of knew me as one of the fashion guys on the team, and the same thing happened when I played in the NHL," Weekes reminisced. "I've always had an eye for goalie equipment, both the functionality and the aesthetics, as you saw with a lot of custom designs that I had on my gear both with Vaughn and with Brian's. But the same thing went for clothing, so for me, having those two things as the basis for my life, I Have No 5-Hole was kind of a natural progression."
The natural progression of the new apparel line was further sparked by the extended off-season, which still continues today. The NHL lockout is a foreboding negative, but Weekes' new project helped him think positively.
Weekes' first design was from an informal photo shoot with friends
"I thought about it before, and due to timing and different factors, it wasn't right for me to start this," Weekes said. "Finally, I would say about two or three weeks before the Stanley Cup Finals, I was talking to my web guys, and we discussed doing some t-shirts. So we ended up holding an informal photo shoot, and we came up with some concepts for my website."
His web guys are a group of artists known as Made in Regio, a creative company that specializes in sports brand development and offers clients like Weekes original content in new media such as web design and digital photography.
"They took a few photos of me and wanted to see how they would look on a t-shirt, so we did that, and then started by getting responses from the general public. Friends of mine and different guys in the NHL liked them and thought they were witty and fun. But those were people that I knew, so I reached out to people I didn't know on Twitter and got the same response. Right away, people wanted them. But this was literally before we had any stock, so we had to put 'coming soon' everywhere. Ultimately, we finally ended up getting stock, and we did our first run right around the Stanley Cup Finals."
Having seemingly created a buzz overnight, Weekes and Made in Regio wanted to be strategic with the brand, but it wasn't easy since they were already selling anywhere from 10-to-15 shirts a day. People in areas like Seattle, Pittsburgh, Long Island, Los Angeles, Florida, and even Germany and Switzerland were hungry for a shirt, and Weekes had to spend most of his time and effort into filling their orders.
As July turned to August, the brand and buzz grew so quickly that Weekes was able to establish a few retail partnerships with legendary hockey shops like Just Hockey Source for Sports, a store he often visited as a child.
And he wasn't stopping there.
"We also have a partnership with Five Hole Sports down in Raleigh, and since I played for the Hurricanes for a while and went to the Stanley Cup Finals in 2002, I have a lot of relationships in that area. So that was a natural partnership as well, and we've talked to more retailers all across North America, and a few in Europe," Weekes said. "We're just trying to be as strategic as possible, and we want to continue to build partnerships that make sense and are full of value not only for us, but for our partners and customers."
Throughout our phone conversation, Kevin kept using the "we" term. But beyond his buddies at Made in Regio, I had no clue who else was involved…which naturally led to my next question.
"It's certainly a very entrepreneurial venture; my fingerprints are all over this and it's something I'm very passionate about," he said. "But others are involved, and my wife owns her own business as well, so she does quite well with her commercial and interior design business. So it's really my web guys, my wife, my sister, and a couple of my friends — it's just family for the most part. We're in our early stages still, so we really have all hands on deck from a family standpoint. My sister has done a great job and so have the web and designer guys, and my wife has been helping on all fronts too. "
Since the moment his parents emigrated from Barbados to Canada, family values have been an integral part of his success as a pro athlete and broadcaster. This can be said for everyone that plays the game at a high level, but knowing that Kevin's wife played an active and integral role in the fledgling brand's day-t0-day business made this a project worth cultivating.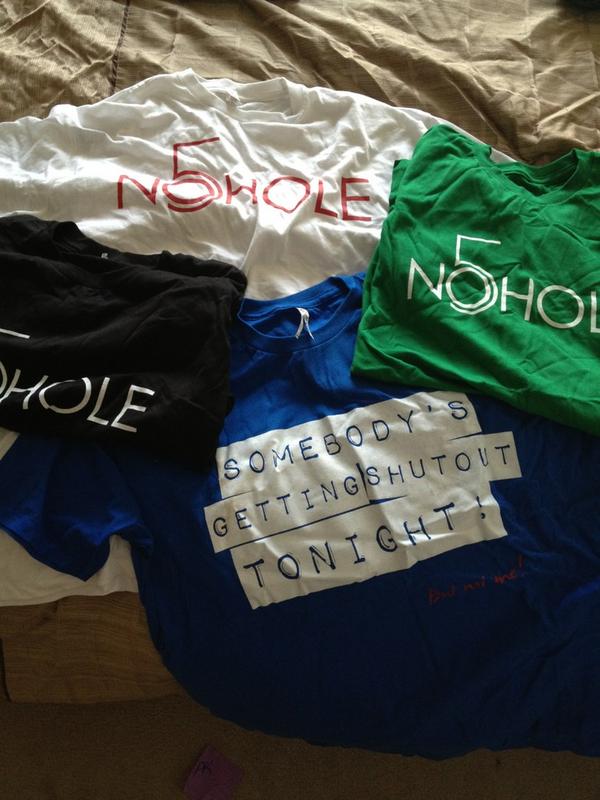 "It's awesome. Because of the fact we're both highly motivated, it's nice to be able to have somebody else that understands," Weekes said regarding his wife's help. "I know what my strengths are, I know what my challenges are, and that's one of the best parts about collaborating with her; it's knowing what you don't know, and knowing what you don't necessarily excel at, and that's all part of being humble and recognizing where other people can add value. So whether it's my wife or my sister or my design guys, whoever it is, it's nice to be able to get different feedback from different people and be able to lean on them for help."
In that regard, even though Weekes is a council member of the worldwide goalie union, his shirts embrace a culture that goes well beyond the masked men.
"We really identify ourselves as being not only a goalie brand, but a hockey and lifestyle brand. The lifestyle is more the fashion side of it," Weekes emphasized. "You may not necessarily be a hockey fan, but you're still going to like some of our pieces. If you are a hockey fan, you're going to like some of our pieces. If you're a goalie, you're definitely going to like some of our pieces. So we're trying to be a bit more wide-ranged in our appeal. Obviously we're rooted in hockey and goalies, but it's a unique space that nobody else has really been able to capture effectively in a sense of advocating a wide range of impact."
Not only is the "wide-range" approach important for a niche and sub-culture like hockey goaltending important for a brand to be successful, but more importantly, Weekes wants to bring people from all walks of life together.
"We want to be very far-reaching, and whether you're a goalie or casual hockey fan, everybody wears clothes," he said. "So we know what we're rooted in, we respect what we're rooted in, and at the same time, we want to expand our product offering so we can appeal to as many people as possible."
The more people that can relate to the I Have No 5-Hole brand, the more people will be willing to buy the shirts and support his latest project. The more people that buy and rep the shirts, the more people he brings together. The more people he brings together, the more he grows the game we all love.
"Ever since I was young, working at goalie camps and doing different things with the NHL at the club and grassroots programs back home in Toronto, growing the game has always been a big part of my life," Weekes said. "So I Have No 5-Hole is a vehicle that allows me to continue doing that; we want to continue growing our brand, but we also want to grow the game, grow the awareness, and really connect people. That's the main thing, Justin. For me, it's connecting people and connecting with people. I'm a people person."
Taking the time during the lockout to do something positive, Kevin has embraced the hockey culture, and by using social media to bring people together, he's doing a lot of good in a time of need.
Weekes isn't just a people person; he's a man that loves to connect on a personal, face-to-face level. It's that type of unique experience we all embrace, regardless of our age or dedication to the sport.
"There's so much passion for the game, from grassroots minor hockey to adult rec league," Weekes said. "My experience has been that many brands overlook this important segment. Part of our brand's DNA is to acknowledge, connect, and bring people special experiences."
Right now, in an age of elevated apathy due to the NHL lockout, to know that someone like Weekes cares so much about growing the game by being at the rink with a smile on his face, it's not only refreshing, it's vital. It keeps the blood of the game flowing through the veins of our community.
At the same time, giving the sub-culture of goaltending a stronger voice is simply a perk that comes with the brand's growing fellowship.
"It has been really fulfilling. One of the things that drew me to goalies was the style. But the substance about it was the responsibility of playing goal, and having so much of the game in your hands," Weekes said. "It's similar with I Have No 5-Hole. It's the creative process, but the substance is there too. When I go to a rink in Detroit to work with a midget minor goalie and he's wearing our shirt, it's fulfilling. He's repping our brand — it's his choice. And to choose to wear our product is both gratifying and humbling at the same time."
So there you have it, folks — the story behind the "I Have No 5-Hole" brand. As you can see, Weekes has put his heart and soul into this project, and with his family and closest friends offering their full support, it is definitely here to stay. I've even seen Malcolm Subban wearing these shirts, and I know Kevin made a custom set of t-shirts for Los Angeles Kings goalies Jonathan Quick and Jonathan Bernier, too.
But where does it go from here? Is I Have No 5-Hole something he plans on doing for the rest of his life?
"I can. To what scale, we're not sure," Weekes said with a laugh. "As you know, we're literally in the crawl stages right now, but I never put limitations on potential. At this point, we love being able to touch a lot of different people in a lot of different ways. It's a lot of fun."